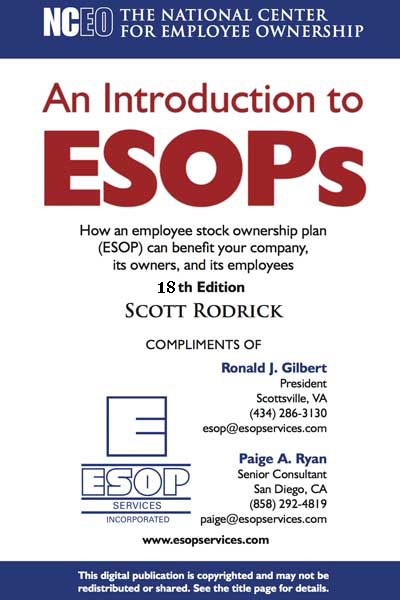 An Introduction to ESOPs
This booklet covers the basics on how an ESOP works, and the benefits to you, your company and employees.
18 Edition, 60 pages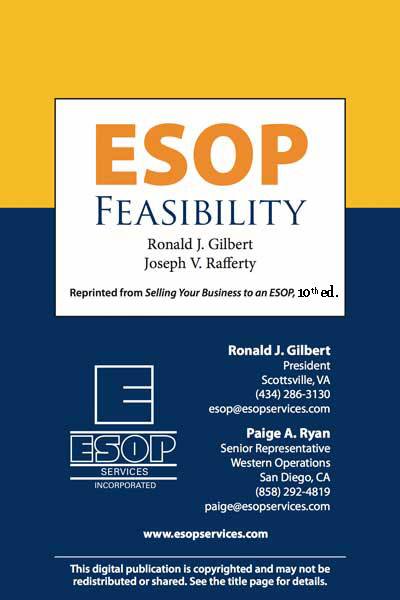 ESOP Feasibility
This booklet provides a summary of the general issues related to ESOP feasibility, including an extensive checklist.
31 pages
Yes, I'm interested!
Make sure you have checked your spam or junk folders if you do not receive an email with these booklets attached within the next 5 minutes.
The ESOP Book
Employee Stock Ownership Plans: Business Planning, Financing, Implementation, Law & Taxation, the most complete work on the subject, is presently being revised to incorporate new legislation, including the American Jobs Creation Act of 2004, which made a positive change in the ESOP law for S Corporations.
The book is co-authored and co-edited by Robert W. Smiley, Jr., Ronald J. Gilbert , and David M. Binns, Ronald L. Ludwig, and Corey Rosen, and was be published by the Beyster Institute.  The original volume and the most recent update, completed in 1998, was published by the RIA Group.